Easy To Use IPL Laser Hair Removal Machine
In Stock! Ready for Dispatch
Stops hair re-growth in just a couple of sessions.

Completely pain-free and takes just minutes to use.

Works on any body part (including face and brazilian).

500,000 flashes - the most advanced IPL machine available on the market.

Safe to use at home, certified and clinically tested.
Real time
+

40
visitor right now
Eliminate unwanted hair and forget about irritated skin after shaving! Just three quick sessions over three weeks will bring long-lasting visible results. Unique high frequency flashing light technology allows for the pain-free removal of your hair. Intense pulse light (IPL) gently warms the hair follicle disabling it and preventing hair regrowth on your body and face. With flashing capacity of 500,000 this is the most advanced IPL hair removal device for home use and designed to last for over 10 years.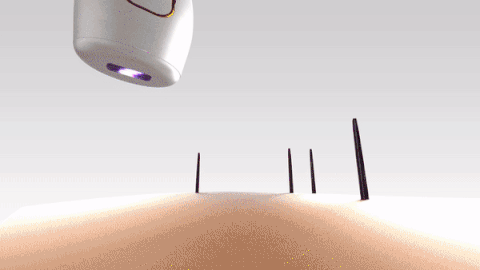 Two flash modes: Single flash and continuous flash to accommodate different body parts.   


Five power levels: Choose convenient setting suitable for your skin type.  


Gain without pain: IPL Laser Hair Removal Handset offers gentle experience providing with pain-free treatment.  


Advanced IPL technology: This technology was originally used in professional beauty salons and now brought to the comfort of your own home.  


Time is money: It only takes 5 minutes for a small patch and as few as 30 minutes for full body treatment. 


No limits: Suitable for virtually all skin types, but very dark black skin. Can be used on all body parts by men and women.


Continuous saving: It costs less than one salon laser treatment of just one body part and will last you for up to 10 years giving the same results!

Professional IPL treatments already exist for 25 years and our technology is derived from the same used in professional salons. We have adapted the know-how and your handset will utilise clinical-grade technology that is certified for safe hair removal at home. There have been numerous clinical studies conducted that demonstrate the safety and effectiveness of IPL for hair removal. 
It is suitable for all but the darkest skin tones. Refer to the skin tone chart below to see whether or not IPL is suitable for you.

FAQ: 
So how does IPL Hair Removal work? 
What's included?
One of the many advantages of our Handset over other types of laser is that it is pain-free. Most customers explain the feeling as a warm sensation on the skin.
Our Handset offers extremely long lasting results however no form of IPL or laser hair removal is permanent, even at the clinics. Just be careful when companies claim "permanent" hair removal, as this term technically means that there will be no regrowth of hair for 6 months. To maintain long-term results we advise using our Handset once a week for 8 weeks, then just once every few months for maintenance.
Do I need to wear eye protection?
No, eye protection is not required whilst using our Handset. Our Handsets have been designed with a sensor and will not pulse a light unless the entire window is pressed against your skin. That being said, you should never try and look directly into the light as it flashes.
Which areas of my body can I use it on?
You can use your handset on your whole body, including your Brazilian and face (just be sure to not get too close to your eyes).
How long will it take before I start seeing results?
Most users start to see a reduction of hair in just 2-3 treatments using our handset, with complete results after 5-8 treatments. However, results can vary from person to person.
How often do I need to use it?
We recommend using your handset once a week for the first 8 weeks. After this period we recommend using your handset once a month, for 2 months or until satisfied. If you would like to maintain hairless, smooth skin, we recommend using your handset once every 2 to 3 months, or as needed.
Do I have to shave before using this product?
Yes, we recommend shaving the areas you wish to target before using your handset.
Which hair removal methods can I use between treatments?
Between your treatments you should only shave when required. We recommend never waxing, plucking, or epilating as these hair removal methods removes the entire root, which is what absorbs our handset's light during the treatment.
Is it safe to use over freckles and moles?
No, you should not IPL over very dark freckles or moles, although light freckles are okay.
Is it safe to use over TATTOOS?
No, you should not IPL over tattoos, although going around tattoos is fine.
Can I use this product before or after tanning?
If you have been tanning recently, we must recommend waiting 2 weeks before using your handset. Please also wait at least 48 hours to tan after using your handset. Artificial tan should also not be on your skin whilst using your handset.
Does it have a battery?
This is advanced version of IPL producing 500,000 flashes. There is no battery that can effectively sustain this level of output for continuous use, therefore the device needs to be connected to the power supply whilst in use.